Kitchen Gizmo Snap'n Strain Strainer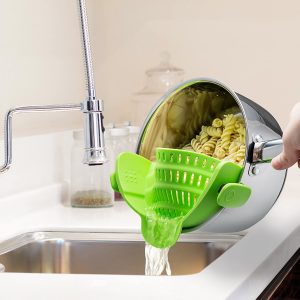 With its innovative, universal design, the Snap'n Strain will take the strain out of straining. This top quality, heat-resistant, silicone strainer is the most practical way to get your food strained thoroughly, while avoiding transferring the food out of the pot.
Kochblume Spill Stopper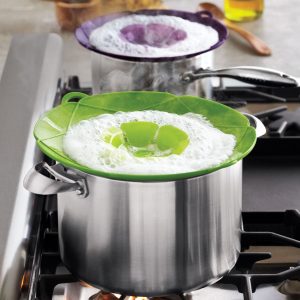 Perfect your pasta-making skills with a smart spill-stopping tool that'll keep boiling water from overflowing and splattering all over your stove. Its unique two-tier lid effectively lets steam and pressure escape, so you're not stuck scraping off burnt-on spills long after your pasta is gone.
Yolkfish Egg Separator
There are plenty of fish in the sea, but nothing like this sip-lip silicone phenomenon. YolkFish has a special talent – he knows how to split the yellow from the egg white.
Retro Pop-Up Hot Dog Toaster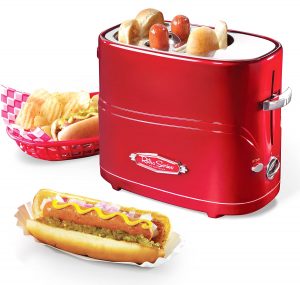 Keep things quick and easy while preparing a meal everyone loves. The large hot dog cage fits two regular-size or extra-plump hot dogs. Adjust the heat setting to toast hot dogs to your preference. When done, easily remove the hot dog cage using the included mini tongs. Add your favourite hot dog toppings and enjoy!
Dual Breakfast Sandwich Maker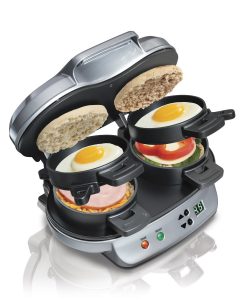 Quick and easy to use – just put your ingredients in, close the lid, set the timer and in 5 minutes you have two fully assembled breakfast sandwich ready to go.
Stainless Steel Bacon Master
The Bacon Master is an upright griddle cooker that allows you to cook bacon evenly without having to turn it, and helps the fat drain for a healthier breakfast option. You can also save the fat from the drip tray if you like to cook with it later!
One Click Stick Butter Cutter
The one-click butter cutter holds and slices butter into pats with just a squeeze. Easily loads a complete stick of hard butter. Measures out butter with 4 slices per tablespoon. No mess-no fuss. Keep hands and butter clean.
Smart Tongs 2-in-1 Spatula Tongs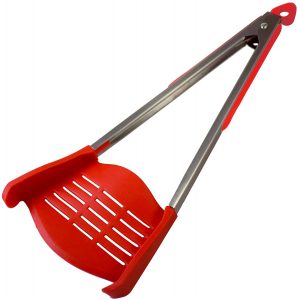 Flip, cradle, grab, or scoop with the 2-in-1 spatula and tongs. Combines the flip of the spatula and the squeeze of tongs. Makes cooking and serving your favourite foods so much easier.
Salad Chopper Bowl and Strainer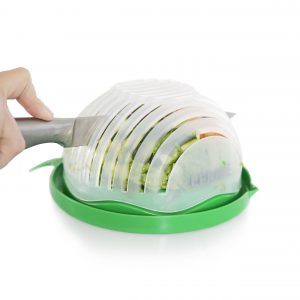 Enjoy a healthy, delicious salad in seconds with the easy-to-use Salad Cutter and Strainer 2-in-1 that makes enjoying fruits and vegetables quick and easy. Place all your salad ingredients in this bowl and slice through the grates. Twist and repeat, and you're left with perfectly chopped lettuce and veggies! Just transfer onto a plate and add dressing.
Pancake Batter Mixer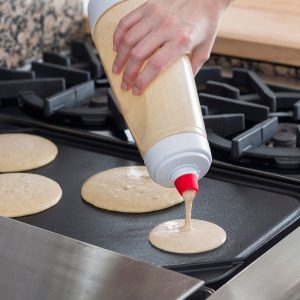 The Whiskware Batter Mixer by BlenderBottle uses a patented mixing system for smooth batters in seconds. Add ingredients, drop in the BlenderBall and shake. No batteries, no cord, no hassle. The silicone tip provides perfect control to draw shapes and won't melt if touched to the pan.
Chef'n Cob Corn Stripper
A perfect little gadget for stripping an entire corn on the cob in seconds! Easily strip the kernels from the cob in one easy motion. Stainless steel blades.
Automatic Pan Stirrer With Timer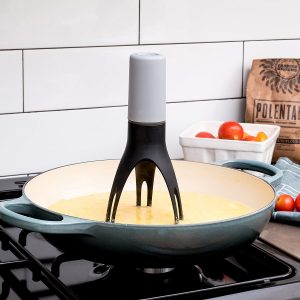 Some of the most delicious sauces require more attention than a newborn baby. But they're totally worth it (delicious sauces and babies). For those recipes that call for continuous stirring, we introduce this clever time—and arm—saver. Place it in your pan with any simmering or low-heat liquid, set the timer, and go do the million other things you need to do. We'll be over at 8. Made in China.